മാർ കുര്യാക്കോസ് കുന്നശേരി (Mar Kuriakose Kunnacherry)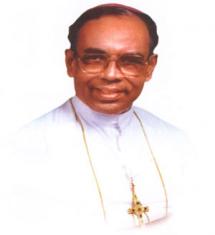 (The First Metropolitan Archbishop of Kottayam Archdiocese). Date of Birth: 1928 September 11, Date of Ordination: 1955 December 21, Date of Consecration: 1968 February 24, Date of Death: 2017 June 14.
Date Of Birth:1928 Sep 11
Date Of Ordination:1970 Jan 01
Mar Kuriakos Kunnacherry was born on the 11th of September, 1928 at Kaduthuruthy in Kottayam Distrect. He was Ordained priest on the 21st of December, 1955 in Rome. He received Doctorate in Civil and Canon Laws from the University of Latern in Rome and Master's degree in Politics from USA. He was nominated bishop of Kepha and appointed Co-Adjutor Bishop of Kottayam on 9th December 1967. On February 24, 1968 he received Episcopal Ordination at Sacred Heart Mount, Kottayam from His Eminence Cardinal Maximillian de Furstenberg, Priefect of the Congregation for the Orintal Churches. At the retirement of Mar Thomas Tharayil, he took charge of the Diocese of Kottayam on the 5th of May, 1974.  He has served the regional, national and Universal Church in various capacities. He was a member of the  Pontifical Commission for the Codification of the Code of Canons of the Eastern Churches and a member of the Pontifical Council for Inter-religious Dialogue. He served as the Chairman if the Ecumenical and Inter-religious Dialogue Commission of the Catholic Bishop's Conference of India several times.
He was the Chairman of the St. Joseph's Pontifical Seminary, Alwaye and Chairman of the St. Thomas Apostolic Seminary, Vadavathoor. He was the Vice Chancellor of the Paurastiya Vidya-pitham, Vadavathoor. He has held offices in Kerala Catholic Bishop's Council and the Syro-Malabar Bishop's Conference. He was a member of permanent synod of the Syro-Malabar Archiepiscopal Church and member of Commission for Ecumenism and particular Law.
He Retired from office on Jan 14, 2006.